I love a life hack that allows me to save money, reuse something, and reduce my exposure to chemicals. What amazing thing could have all of these benefits? A coffee scrub!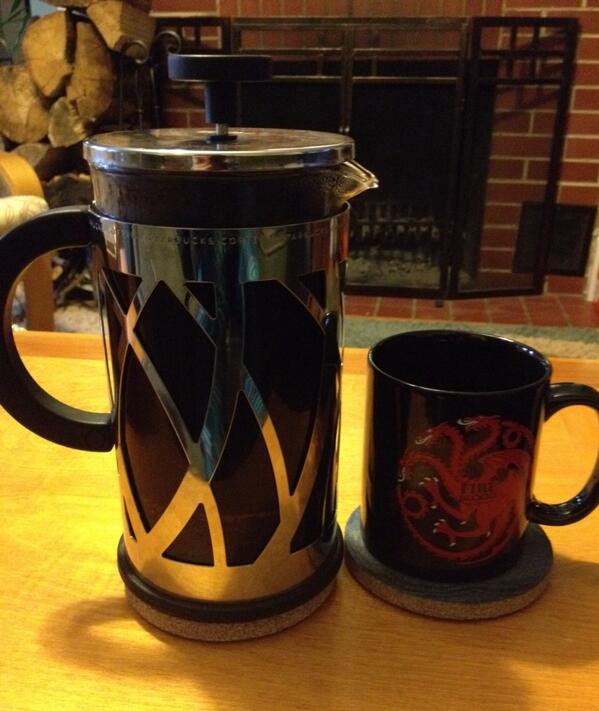 My two loves: French press coffee and Game of Thrones
Whenever I shave my legs (and this time of year that's way too often for my sensitive skin), I need to exfoliate so I don't get ingrown hairs. Even if you don't get ingrown hairs, it's a good way to get rid of the top layer of dead skin to give you a closer shave.
So how do you make it? It's super simple. First, get yourself some coffee grounds, used or unused. I use the ones that we brewed that morning and make sure to grab them before they end up in our compost pail.
I'll throw these in a bowl, or if it's the weekend and we've made French press, I'll grab the entire carafe.
Note that depending on the type of coffee, the grounds may be finer or more coarse. Grounds for drip coffee are generally more fine, compared to the course grounds you need for French press. I haven't found much of a difference, but the finer ones may go down your drain more easily.
Next, grab your choice of oil. I usually take olive oil or coconut oil as I already use these on my skin for a variety of reasons (more on that in future post). I find it easiest to put about 1/4 c into a plastic container so, 1. I'm not getting the container wet in the shower and, 2. they won't break if I drop them (bare feet and broken glass is not a good combo).
Then, head into the bathroom. If you're taking a bath or shower already, I suggest waiting to exfoliate until you're done with everything else. The exposure warm water over a few minutes helps the skin and hair soften and will make it easier to shave (if you choose to do so at this time).
Once you're ready to exfoliate, take a small handful of grounds and combine with as much oil as you like, then smooth over your entire leg. Yes, it will make a bit of a mess, but it cleans up easily. Just be careful not to use too much oil or the bottom of your shower will get dangerously slippery.
Have you ever noticed that caffeine is often an ingredient in cellulite creams and scrubs? This is because it tightens the skin, temporarily improving the appearance of cellulite. Bonus points for the added benefit! Another bonus is that since you made this yourself with only two ingredients and you didn't buy a scrub, you're saving some money and reducing you exposure to weird chemicals that may be lurking in conventional scrubs.
In running news, I'm hoping to head out this afternoon to do the final stage in my Return to Running plan this afternoon! I can't believe I finally made it! Six months of being patient with my body has certainly paid off! I know I shouldn't put the cart before the horse, but I'm already contemplating signing up for a race, doing tempo runs, etc. Finally some variety!
Questions: Do you make your own scrubs at home? What are some of your favorite combinations?